ALMATY OFFICE 
TOPICS
Japanese / English 2023.04.13 On February 13-14, 2023, Dr. Takashi Ninomiya, Coordinator of the University of …
HISTORY
2017.07

Proceedings of the Central Asia-Japan Research Conference held last February 2017 are now available online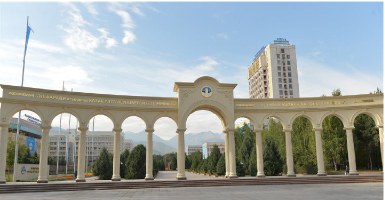 In April 2014, the University of Tsukuba Almaty Office was established at the Al-Farabi Kazakh National University in the city of Almaty, Kazakhstan. Together with the Tashkent Office in the Central Asian region, the mission of the Almaty Office is to promote research in the fields of Japanese language education, Central Asian Studies, and other interdisciplinary areas, to support the publication and dissemination of scholarly articles, and to organize international conferences, symposia, as well as cultural events in both Japan and Kazakhstan.
Greeting from The Director
In Central Asia, there are five countries and Kazakhstan is the largest. It is a country with both magnificent nature and culture. For those who are interested in old history, ancient cities abound in the mountains and deserts. For those who are interested in space, the Baikonur Cosmodrome, the world's largest space launch facility, is also located in Kazakhstan. The late KUROKAWA Kisho, one of Japan's most famous architects, designed the new capital of Kazakhstan. When you visit this country, you will feel a sense of nostalgia and warmth from the people, as well as with the food culture of "Lagman," which is known as "Kazakhstan's Kishimen," and "Beshpalmak," which is served with horse meat.  You cannot help but sense that it's a country that has some affinity to Japan.
After the dissolution of the Soviet Union in 1991, five independent states (Uzbekistan, Kazakhstan, Kyrgyz, Tajikistan, and Turkmenistan) were established in the Central Asian region. Thirty years have passed since then, and research on Central Asia is becoming increasingly active in Japan and other parts of the world in various fields, regardless of humanities or sciences, and the region is an important link between Europe and Asia.
The University of Tsukuba has partnership agreements with six universities in Kazakhstan: Al-Farabi Kazakh National University, where our overseas office is located, ABAI Kazakh National Pedagogical University, Kazakh Ablai Khan University of International Relations and World Languages, Nazarbayev University, Narxos University, and L.N. Gumilyov Eurasian National University. Among them, Al-Farabi Kazakh National University is the tenth university to sign a Campus in Campus agreement in 2019, indicating its strong relationship with our university.
The Almaty office will continue to do its utmost to promote the exchange of students and researchers as well as joint academic projects in the fields of humanities and social sciences, such as Japanese Studies and Central Asian Area Studies, as well as in the fields of medicine, systems informatics, and life and environmental sciences, all of which are distinctive academic fields of the University of Tsukuba.
Masaki ONO, Director of the Almaty Office
Professor, Graduate School of Humanities and Social Sciences
University of Tsukuba
Office overview
Office : Department of the Far East, Faculty of Oriental Studies, Al-Farabi Kazakh National University
Address: 95a Karasai batyr, Almaty, Kazakhstan.
Postal Code : 050012
Phone : +7-727-243-83-57
Contact Us