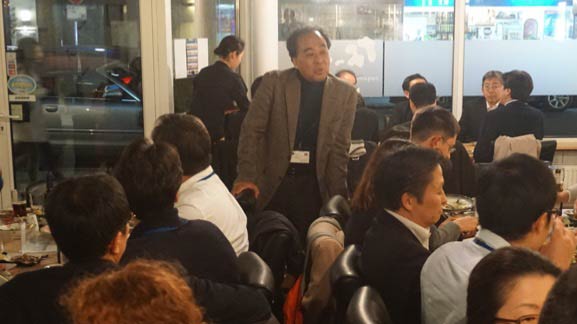 2017.11.28
The University of Tsukuba Alumni Meeting was held in Dusseldorf, Germany on November 28.
Dusseldorf has one of the largest Japanese populations in Europe. More than 40 people including graduates living in Germany and neighboring countries, German students who have experience of studying at the University of Tsukuba, and students of the University of Tsukuba who are currently studying in Germany gathered to attend the meeting.
The meeting started with an opening speech by Bonn Office Director Keiichi Aizawa. He expressed his hope that current students will take this opportunity to connect with graduates who are actively working overseas. He also said that he hopes the meeting will lead to internship opportunities for students in the future.
The meeting was held in a friendly atmosphere, and both Japanese and German students deepened exchange beyond generations.
Ahead of the meeting, six students in the University of Cologne and Heinrich Heine University Dusseldorf, who are planning to study at the University of Tsukuba, received an explanation on the necessary procedures and tips on campus life.