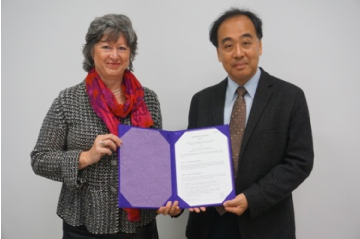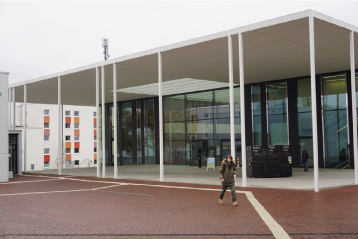 2016.11.09
On 9 November 2016 Director of the University of Tsukuba Bonn Office Prof. Keiichi Aizawa and Representative Officer Yusaku Nishijima visited the University of Düsseldorf to mark the official conclusion of a new faculty cooperation agreement between the Faculty of Arts and Humanities of the University of Düsseldorf and the Faculty of Humanities and Social Sciences of the University of Tsukuba through a formal exchange of signed contracts.
A vivid exchange of opinions on the further practical use and possible expansion of the agreement ensued.
Subsequently University of Düsseldorf Vice President for International Relations Prof. Andrea von Hülsen-Esch went on to present some of her universities flagships: Botany, medicine, linguistics, economic sciences (competition economics and business management), gender and peace studies. Prof. Hana Filip of the Department of Linguistics gave a review about the research conducted in her department before showcasing a half-year scholarship program aimed at doctoral students. Prof. Aizawa remarked that the two universities' scientific focuses overlap in the areas of botany and linguistics.
The meeting thus developed into a conversation highly rewarding for future cooperation.