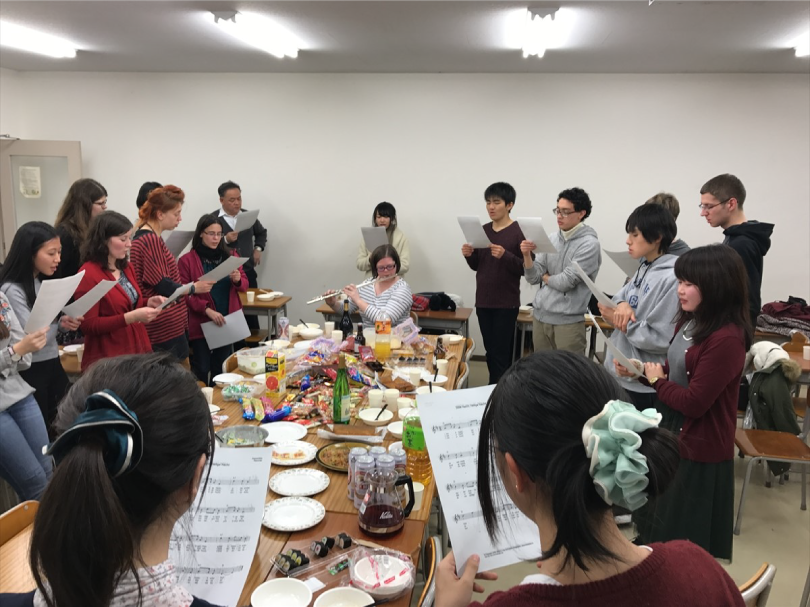 2016.12.13
On December 13, the Japan-Germany Student Exchange Club (Baumkuchen Club) held its 2016 Christmas Party with more than 20 participants in attendance. German students, Japanese tutors, Professor Keiichi Aizawa (Bonn Office Director), and other professors joined the event.
The program had a German student playing the flute to "O Christmas Tree" and "Silent Night" while the participants enjoyed singing along to the music in German. They also enjoyed partaking of Director Aizawa's special German soup as well as homemade cakes brought by the participants. The Tsukuba event made the German students feel the Christmas spirit as if they were back home.
The club holds regular weekly meetings. During the first meeting of the year (January 10), the club had 'mochi' or Japanese rice cake as the theme – wherein members held presentations on, as well as tasting of, the traditional Japanese new year delicacy.
The Christmas party is an annual event, among other various events, organized by the Baumkuchen Club. Last October, they held a mountaineering event to Mt. Tsukuba. For 2017, they are planning an excursion to Makabe Town in Sakuragawa City (just north of Tsukuba) which is famous for its classical storehouses and its Doll Festival. The excursion, scheduled in February, will also include students from France and Russia.
For those who are interested in the Baumkuchen Club, please visit their website (in Japanese): http://www.germanistik.jp/baumkuchen/
http://www.germanistik.jp/baumkuchen/