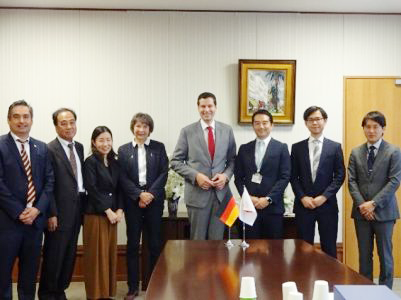 2017.10.02
On October 2, 2017, Mayor Thomas Eiskirch of Bochum City, Germany, together with Prof. Dr. Uta Hohn of Ruhr-Universitat Bochum, and Gregory Rall of the Bochum Economic Development Corporation visited President Kyosuke Nagata.
Bochum City, located in the Ruhr region of Germany, was once known for coal mining but has been reborn as an academic city with the closing of coal mines in the 1970s. There are many things in common with Tsukuba Science City such as the population size and the focus on scientific research. After a visit to the University of Tsukuba, the delegation also visited Tsukuba City Hall and held discussions with Mayor Tatsuo Igarashi on issues concerning the aging population and falling birthrate, childcare, regional revitalization, etc.
In 2007, the University of Tsukuba concluded a department-level agreement with Bochum University in the field of information systems in urban planning, and subsequently in 2016, a university-wide agreement to exchange students and researchers. Furthermore, in Bochum City, the exchanges have gone beyond universities. Cyberdyne Care · Robotics, Inc., a European base for developing HAL robot suits, was established in Bochum. Through this visit, further expansion of exchanges is expected.